ThermalDry® Elite Plank Flooring Installation in Greater Milwaukee
Get a beautiful, water-resistant basement floor with our faux-wood planks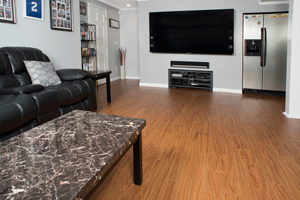 With the help of a beautiful faux-wood plank floor, you can create any basement room you can imagine.
Choosing the right basement flooring can dramatically improve the appearance of your entire basement, however sometimes the decision can be hard to make. If you're looking to make sure the basement blends in with the aesthetic of the rest of your home, and you haven't yet found an option you truly love, this could be the flooring that is just right for you!
If you're after a true wood plank flooring look specially designed for your basement, ThermalDry® Elite Plank flooring from Total Basement Finishing is the product for you! As an authorized Total Basement Finishing dealer, Buck Buckley's Total Basement Finishing has exclusive access to this beautiful faux-wood floor product in your area. We can offer the warm, inviting quality of a wood floor without any of the swelling, rotting, or mold that actual wood would bring.
The basement finishing specialists at Buck Buckley's Total Basement Finishing are more than ready to discuss your design options with you and help you determine if ThermalDry® Planks are right for your home. Schedule a free design consultation and estimate in Greater Milwaukee today!
Before & After: Basement finished with ThermalDry® Elite flooring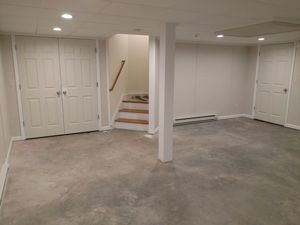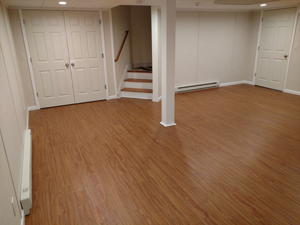 Features and benefits of the NEW ThermalDry® Elite Plank flooring
Luxurious wood plank look. ThermalDry planks are 4" wide by 36" long and designed with a realistic texture to resemble authentic wood plank flooring. The planks are available in both a light and dark finish.
Water resistant. ThermalDry® planks are inorganic and water resistant, so they won't grow mold, rot or buckle. The bottom side of the plank has raised pegs that suspend the flooring above the cold, damp concrete, allowing the floor to breathe. This unique design prevents water vapor from getting trapped and allows water from a leak to drain to an existing drainage system.
Easy to install, modular design. One of the most important features of a great basement floor is the ability to remove individual panels if something goes amiss. ThermalDry® Planks easily lock together, meaning that each one can be taken out, cleaned or fixed, and reinstalled if it suffers any kind of damage – without disrupting the rest of the floor.
Thermal break. Concrete is cold and unpleasant in a finished basement. Installing ThermalDry® Elite Planks can increase the temperature of your floor by 10 degrees, making it a much more comfortable space.
Choose from two beautiful finishes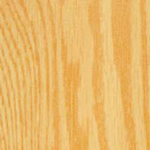 Light Pecan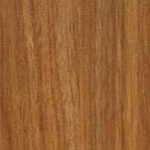 Dark Walnut
Get the basement flooring option that's right for you
If you're considering finishing your basement, choosing the right kind of floor is a crucial decision - not only because it will help define the style of the entire space, but also because if you make a mistake choosing materials, you can end up with a moldy, soggy mess of a floor. Fortunately, ThermalDry® Elite Plank flooring can offer both the aesthetic and the protection your floor needs to survive in the basement for years to come.
Interested in ThermalDry® Planks or any of our other basement flooring options? Call us at 1-833-988-3853 or contact us online to schedule a free estimate! We serve homeowners throughout Brookfield, New Berlin, Milwaukee and the areas nearby.
Looking for a price? Get a no cost, no obligation free estimate.